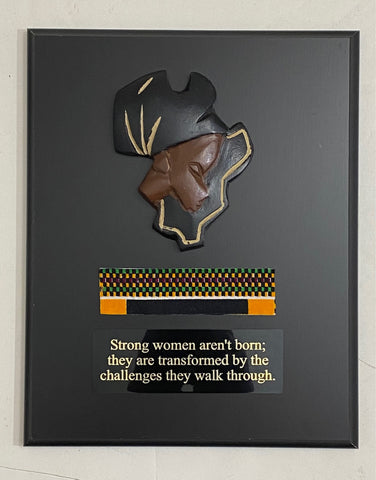 Mother Africa "Woman of Hope" Award/Gift Plaque
$89.95
The "Mother Africa" design shows the hand-carved head of a woman embedded in the Map of the African continent. It's a tribute to the role and influence of women in the African and diaspora experience, history, and culture.
Nice fabric accent. Fabric color may vary

 Bestow this unique, magnificent Recognition Award/Gift Plaque on a recipient who  -
Advocates for the underprivileged
Is a blessing to others around her
Inspires others to action.
Results oriented and resilient.
A great idea for civic, religious & professional organizations, colleges, and corporate award events. Hand-carved in Ghana by K. Amani.
Dimensions - 8" H x 10" L. Includes Certificates of Authenticity and Gift box.
We recommend this award for these categories - Lifetime Achievement, Inspiration, Excellence, Leadership.
Please include your text in the notes section of the order. We recommend that text be limited to six (6) lines and approx. fifty (50) characters/spaces per line. Please allow 7-14 business days delivery for orders with engraving. Call or email to inquire about rush orders.
#africanrecognitionaward #awardsforpeopleofcolor #blackimageawards #blackheritageawards #blackawards