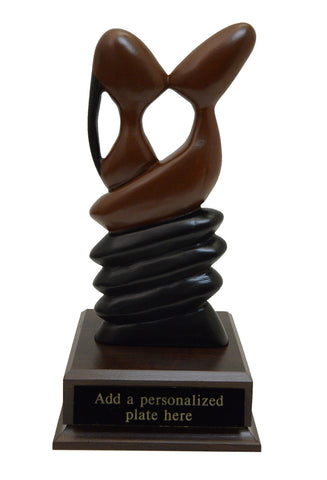 Wedding, Anniversary, Special Occasion - "Embrace"
$89.95
Searching for a memorable Wedding, Anniversary, or Special Occasion gift can be challenging. Some people have everything. And you want your gift to stand out. Let us help with one of a kind personalized gift they will cherish for generations to come.
The hand-carved "Embrace" sculpture symbolizes the special love between two people that endures forever. It reflects the commitment, love and friendship that grows stronger with age. Master craftsman K. Amani carved this piece in Ghana of rich African hardwood known for its durability and attractive finish.
Dimensions (including base) - 5.5"L x 5.5"W x 11"H. Certificate of Authenticity.
Item available for purchase with or without engraving. Space for engraved plate: 5" x 1.25".  To purchase with engraving, include your text in the notes section of the order. We recommend that text be limited to four (4) lines and approx. forty (40) characters/spaces per line. Please allow 7-14 business days delivery for orders with engraving. Call or email to inquire about rush orders.