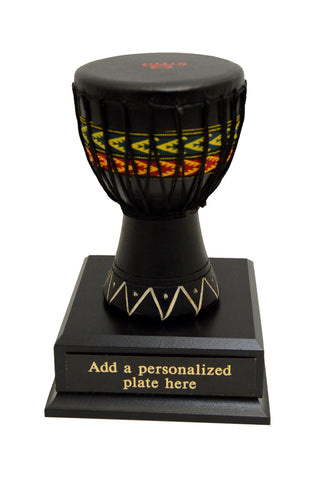 Sold Out
Multicultural Trophies & Recognition Awards- Arts & Culture
$124.95
This product is unavailable
The Djembe drum Arts & Culture award symbolizes the common thread that music and the arts weave across all races. Bestow this unique, magnificent multi-cultural Trophy & Recognition Award on a recipient who embodies these traits - 
Brings people together through arts and culture.
Inspires others through their brand of music.
Uses music and the arts to spread positive social media message
Motivate the youth through arts & culture.
A great piece for civic, religious & professional organizations, schools & colleges, and corporate award events. Hand-carved in Ghana of premium African hardwood by master drummer Brama and mounted on a beautiful wood base. Dimensions (including base) - 5.5"L x 5.5"W x 8.5"H. Certificate of Authenticity.
We recommend this award for these categories - Arts & Culture, Diversity
Item available for purchase with or without engraving. Space for engraved plate: 5" x 1.25".  To purchase with engraving, include your text in the notes section of the order. We recommend that text be limited to four (4) lines and approx. forty (40) characters/spaces per line. Please allow 7-14 business days delivery for orders with engraving. Call or email to inquire about rush orders. #djembedrum #multiculturalaward #gyenyame #blackrecognitionaward #awardsforpeopleofcolor