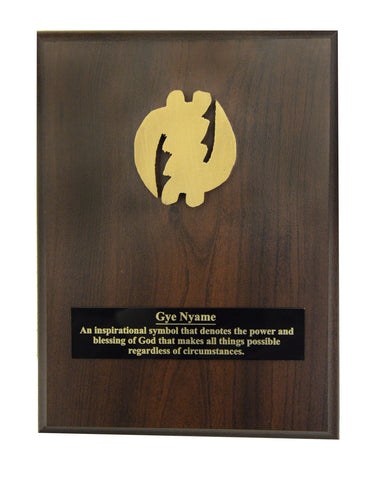 Mini 8" x 6" Gye Nyame Plaque
$59.95
The Gye Nyame (gee-yaa-may) symbol is the most popular of the group of sacred Adinkra Symbols ascribed to the Akan people who settled in the area of West Africa that is now called Ghana and Ivory Coast.  
The word Nyame is one of many names the Akan people use for the Supreme Being and Creator of the universe. Gye Nyame's literal translation is "Except God". The meaning draws from an African proverb about the mystery of creation; that there is no life that existed at its beginning and none will witness its end, except God, whose power makes all things possible.
The influence of the Gye Nyame symbol and other African traditions helped inspire the negro spirituals created by African slaves to express their feelings and for cheering each other during the slave trade.
Bestow this unique, magnificent multi-cultural African-American Heritage Trophy & Recognition Award on a recipient who embodies -
Inspiration and blessing to others
Love
Peacemaker
Embraces diversity
Works to improve the quality of life of others
Sacrifice and selfless devotion
Guidance & mentoring
A unique piece for civic, religious & professional organizations, colleges, and corporate award events. Also a perfect gift for Clergy. Symbol hand-carved in Ghana of Sese wood R. Amani and mounted on a beautiful wood plaque.  Includes Certificate of Authenticity.
We recommend this award for these categories - Lifetime Achievement, Inspiration, Excellence, Leadership.
Please include your text in the notes section of the order. We recommend that text be limited to six (6) lines and approx. fifty (50) characters/spaces per line. Please allow 7-14 business days delivery for orders with engraving. Call or email to inquire about rush orders.