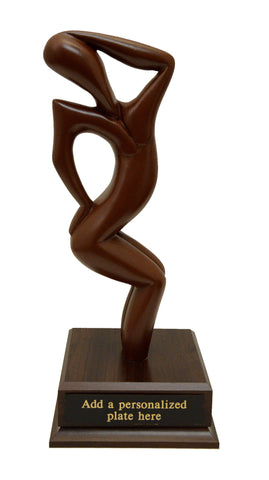 Arts & Culture2 Award
$114.95
The Arts & Culture Award symbolizes the common thread that music and the arts weave across all races. Bestow this unique, magnificent multi-cultural African-American Heritage Trophy & Recognition Award on a recipient who embodies these traits - 
Brings people together through arts and culture.
Inspires others through their brand of arts and entertainment.
Uses music and the arts to spread positive social media message
Motivate the youth through arts & culture.
A great piece for civic, religious & professional organizations, schools & colleges, and corporate award events. Hand-carved in Ghana of premium African hardwood by master carver K. Amani and mounted on a beautiful wood base. Dimensions (including base) - 5.5"L x 5.5"W x 13"H. Certificate of Authenticity.
We recommend this award for these categories - Arts & Culture, Diversity
Item available for purchase with or without engraving. Space for engraved plate: 5" x 1.25".  To purchase with engraving, include your text in the notes section of the order. We recommend that text be limited to four (4) lines and approx. forty (40) characters/spaces per line. Please allow 7-14 business days delivery for orders with engraving. Call or email to inquire about rush orders. .